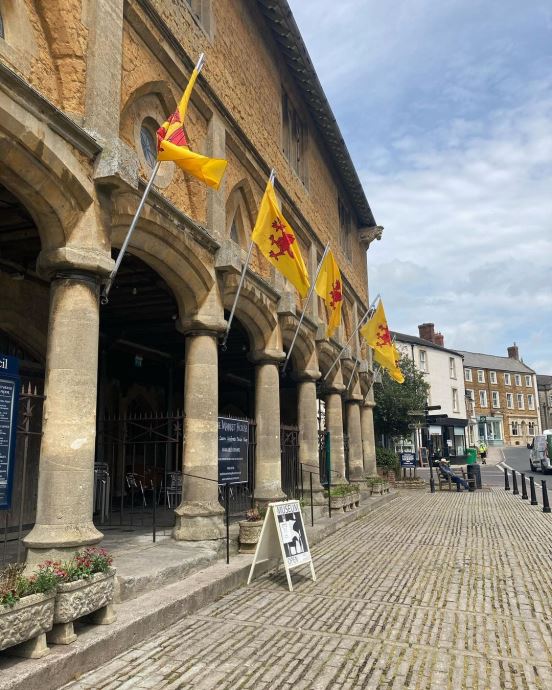 Released On 4th May 2023
Why flags will be flying for King and County on Somerset Day
With the Somerset Day (11th May) celebrations now just days away, the organisers of Somerset Day are asking people throughout the county to Fly the Flag for King and County.
We have two great occasions to celebrate – the King's Coronation on the first Saturday in May and Somerset Day on the second Saturday in May. So what better way to celebrate both than by 'Flying the Flag for King and County'.
Somerset, with its proud royal history, has more reason than most to celebrate this momentous year.
Somerset Day marks the date in May 878 when Alfred the Great, regarded by many to be the first King of England, 'gathered of all the people of Somerset' to march against, and defeat, the invading Viking army.
Of even greater significance is the fact that the first coronation of an English king for which any kind of extended record survives, and still forms the basis for the coronation service used in modern times, was held in Bath Abbey on 11th May 973, when St Dunstan, the Somerset-born Archbishop of Canterbury, conducted the coronation of King Edgar.
Commented Nigel Muers-Raby, CEO and founder of Passion for Somerset CIC, the organisation behind Somerset Day "These first two weekends in May will be especially significant for Somerset this year as we see the King crowned in a ceremony little changed since that first held in Bath Abbey over one thousand years ago, and go on to celebrate Somerset Day just one week later as we recognise the role another Monarch played in our proud history nearly 100 years earlier".
Councillor Mike Best, Chairman of Somerset County Council said "there will be an added significance to this year's celebrations as they taking place just over a month after the new Unitary Council comes into existence, another 'gathering of the people of Somerset'. What a great opportunity to inspire and empower communities and businesses and all who live and work in Somerset to share a passion for Somerset and to encourage them to celebrate all the county has to offer. Let's all make this a truly memorable celebration and fly the flag for King and County !"