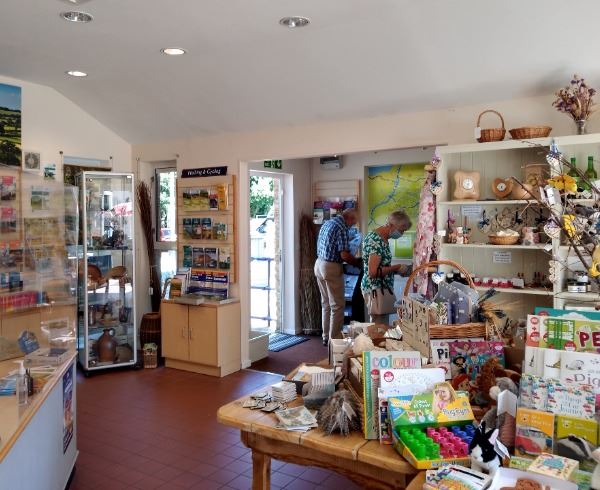 Released On 5th May 2021
South West England Tourism Excellence Awards
The South Somerset Visitor Information Centre was delighted to win Silver at the recent South West England Tourism Excellence Awards 2020/2021 following from their superb Gold at the Bristol Bath and Somerset Tourism awards earlier this Spring. The award is a fitting acknowledgement to the dedication and hard work that the team have put in to promote Somerset and the South West as an exciting and varied visitor destination.
Bev Stapp, team supervisor for the centre said "The Tourism Team is extremely proud to win this prestigious accolade for South Somerset, up against the entire South West region. After a particularly difficult year, we are really looking forward to promoting this outstanding area and supporting our local businesses. We anticipate a very busy season ahead and look forward to welcoming visitors.
Our team has been working hard behind the scenes developing free handy guides and itineraries for our visitors that we can't wait to share. Our new website will also launch just in time for our busiest season which will really help people make the most of their time here."
Sponsored by South West Water, the awards programme opened for entry in March 2020 and, with plenty of adaptations and extensions along the way, it concluded on 22 April 2021. In the same way that hospitality businesses have had to change and innovate during this extraordinary period, so too have the awards, with judging taking account of business entries, digital presence and feedback along with evidence of Covid-secure measures. Winners came from Dorset, Somerset, Wiltshire, Gloucestershire, Bristol, Bath, Devon and Cornwall and include categories for Accommodation, food and drink, attractions, events and experiences as well as innovation and outstanding contribution.
Robin Barker, Director of Services for Tourism Ltd, who manage the awards, commented: "I feel honoured to have been involved in the awards over the past year and the last decade. Of all the years, this has been the one that has generated the most challenges as well as the most emotions, and we are so gratified to have played our part in giving our outstanding businesses something to celebrate. They are all so deserving! We can't wait to get out and visit as many of them as possible."
Co-organiser Nell Barrington added: "I have been really humbled to hear stories from these amazing tourism and hospitality businesses about how they have overcome adversity in these terrible times. It has been great to be able to celebrate their success today and I hope they have a fantastic season. Congratulations to them all."