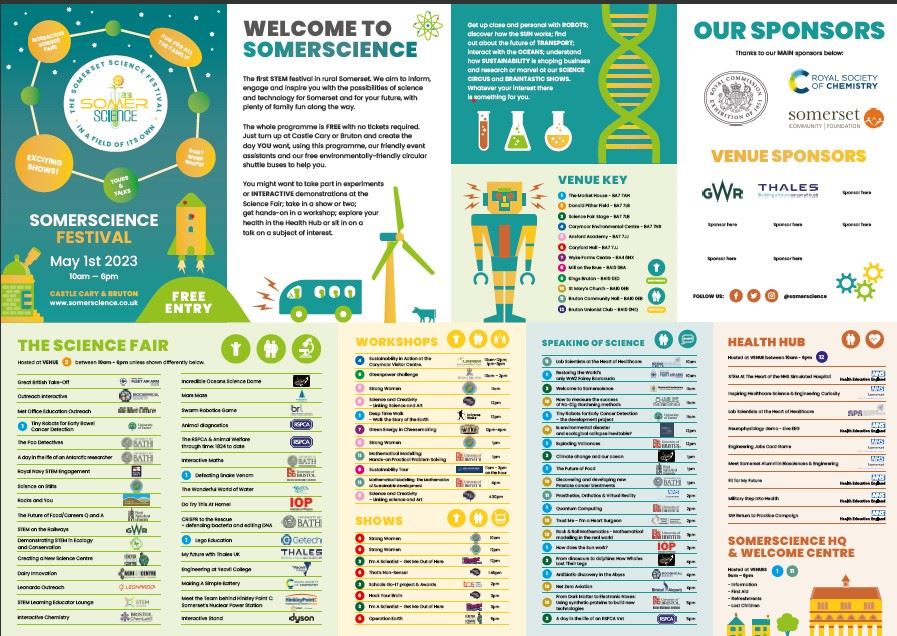 Released On 11th Jan 2023
SOMERSCIENCE – THE RURAL SCIENCE FESTIVAL IN A FIELD OF ITS OWN
SOMERSCIENCE FESTIVAL LAUNCHES ITS EXCITING PROGRAMME OF EVENTS ON BRAND NEW WEBSITE
On 1st May 2023, Castle Cary and Bruton will host South Somerset's first science and technology festival. Across 12 venues in the two towns visitors will be able to take part in shows, talks, workshops, an interactive Health Hub and our exciting hands-on Science Fair. All of these are detailed in our website at www.somerscience.co.uk and it's all free!
With 55 organisations taking part and 75+ different activities, Somerscience will be quite an immersive experience and the day will be packed with fun and interesting things to do for the whole family. Get up close and personal with robots: discover how the sun works; find out about the future of transport; interact with the oceans; understand how sustainability is shaping business and research or marvel at our Science Circus, Braintastic and I'm A Scientist, Get Me Out of Here! shows. Or maybe discuss a future in science with the universities, employers and research and development organisations taking part.
Colleen Bower, Festival Director of The Somerscience Trust said "Science festivals mainly take place in cities and South Somerset in particular is poorly served for young people being able to access opportunities to engage with S.T.E.M. We wanted to bring this exciting world to them and show that science is done by people like them and underpins all the things that feature in their daily lives, even in a rural area. Primarily we want to inspire and engage young people and their families but with the ultimate goal of showing how taking an interest in S.T.E.M. can lead to amazing futures."
The festival is generously supported by the Royal Commission for the 1851 Exhibition, Royal Society of Chemistry, and Somerset Community Foundation as well as the 55 contributors who know the importance and value of reaching out to young people where they are. This will be an annual event and show the S.T.E.M. world that, when it comes to engaging with science, South Somerset is in a field of its own!
For more information or to get involved as a volunteer please contact: Colleen Bower