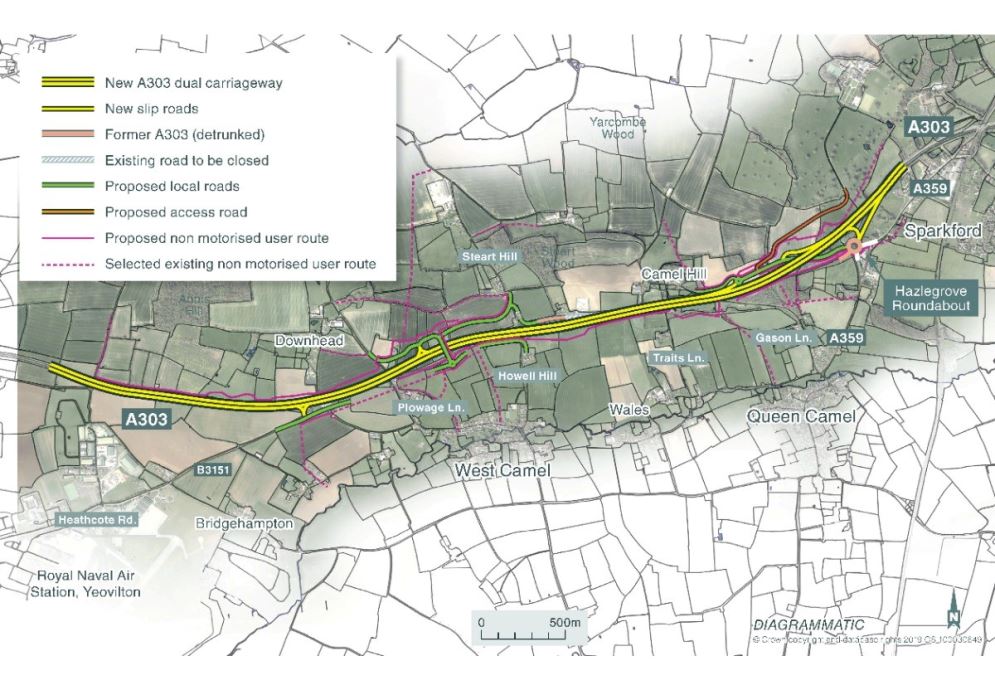 Released On 9th May 2023
Next phase of A303 Sparkford works to start in May
The A303 Sparkford to Ilchester scheme, which is dualling three miles of single carriageway, is set to enter its next phase this May.
As National Highways moves forward to deliver an upgraded A303, the government-owned company will be changing the way the traffic flows along the road.
At times it will be necessary for motorists to switch from one carriageway to another (crossover), and in some instances will be using sections of the newly built road, while works are completed where the new road will tie in.
There will be six phased crossovers in total, with the first happening in May, between Podimore roundabout and the junction from the A303 to Yeovilton (B3151). Motorists will see traffic management on the road from 9 May, with a new speed limit imposed from 30 May.
Following on from this, there will be five further traffic switches as the scheme nears completion.
Hannah Sanderson, Programme Manager for National Highways, said: "To complete this work safely, we need to introduce some traffic management onto the road and 30mph limits will be required in sections where traffic is crossing over from one side to the other.
"This is being done for the safety of road users and for the safety of our construction team who'll be working closely to the road.
"Our primary goal is to keep all traffic moving, while maintaining the safety of all those using or working alongside the road. We'd like to thank everyone for their patience and understanding."
"We have analysed traffic flows carefully to check there is no significant risk of disruption and will be keeping everyone fully informed via signing and the media.
"We would ask that drivers plan their journeys and follow signing carefully to avoid being delayed more than necessary and we would like to apologise for any inconvenience caused during these essential works."
The scheme between Sparkford and Ilchester will not only promote economic growth in this area of Somerset, but it will also tackle a long-standing bottleneck, reduce journey times to the South West and improve traffic flows in that area at peak times and during peak seasons.
On an average day, the A303 between Sparkford and Ilchester carries 23,500 vehicles, but numbers increase significantly in the summer, particularly at weekends, making journeys unreliable and unpredictable.
In delivering the scheme, National Highways is aiming to:
improve the capacity of the road to reduce delays and queues that occur during peak hours and at key times of the year i.e. the height of summer.
support economic growth, facilitating growth in jobs and housing by providing a free-flowing and reliable connection between the South East and the South West
make the road safer, by providing additional capacity and reducing driver stress. We'll make routes safer for pedestrians, cyclists, horse riders in the area.
protect the environment and look for opportunities to improve it, minimising any unnecessary impact of the scheme on the surrounding natural and historic environment and landscape.
work with local communities to reduce the impact of the road on a sense of community severance, and look for ways to improve local peoples' quality of life.
make journey times more reliable and resilient, by providing more capacity it will become easier to manage traffic when incidents occur.
National Highways is working with delivery partner Galliford Try to construct the scheme.
With construction now under way, the upgrade is scheduled to be open to traffic in spring 2024 and you can find out more about the scheme and the construction process on National Highways' virtual exhibition, and sign up for the newsletter by visiting https://nationalhighways.co.uk/our-roads/south-west/a303-sparkford-to-ilchester/