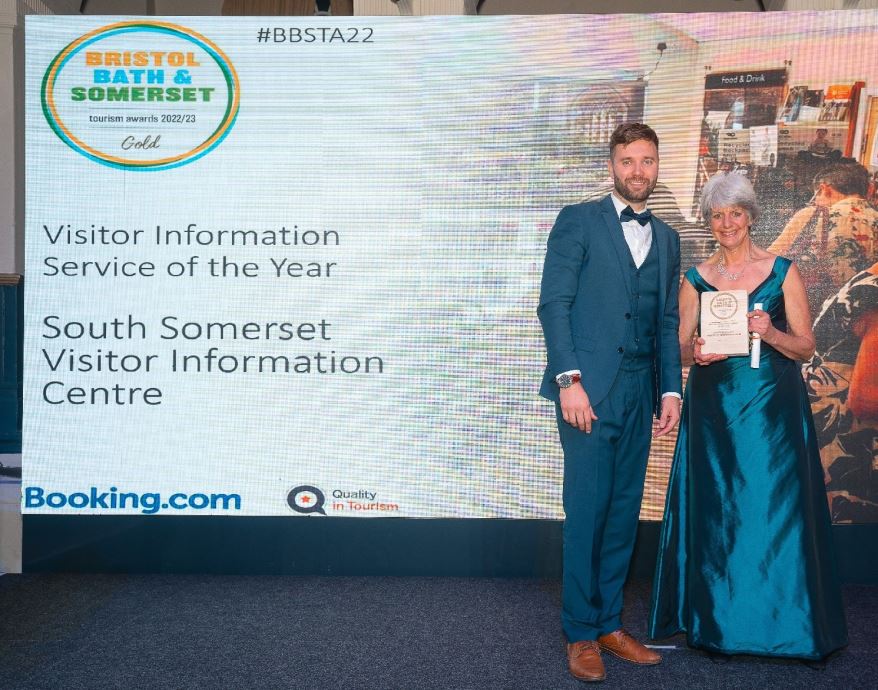 Released On 14th Dec 2022
GOLDs galore for South Somerset at the region's prestigious Tourism Awards!
South Somerset Visitor Information Centre is delighted to have won the top Gold award for Visitor Information Service of the Year, presented at this year's 2022 glittering Bristol, Bath and Somerset Tourism Awards ceremony.
Bev Stapp, Centre Supervisor, said: "We are absolutely thrilled to be a finalist and to win Gold is just fantastic. Huge thanks to our wonderful staff and tourism team who make this possible."
The judging takes place over a number of months and assesses lots of different factors including the quality of customer service, marketing activity and even a mystery shopper.
The bustling centre and gift shop is located on the iconic A303 at Cartgate Picnic Site, an ideal setting for an introduction to Somerset and the West Country. Bev and the team welcome tens of thousands of visitors and residents through the doors, providing a valuable point of advice and information. The centre promotes South Somerset and Somerset as a unique and authentic destination of choice, and also offers information on the West Country and UK in general. The dedicated team also supports the local community by promoting events, selling tickets and stocking a wide range of locally made goods.
Gold awards kept coming for South Somerset; other winners included Gold for The Bridge Bakery and Canteen, Langport in the Café/Tearoom category, and an impressive two Golds for Long Hazel Park, Sparkford for the Camping and Caravanning Park of the Year, and in the Ethical, Responsible and Sustainable Tourism category. Celebrations too for Crewkerne's Wytch Wood Camping who won Silver in the Ethical, Responsible and Sustainable Tourism category. Long Hazel Park were also awarded the prestigious Winner of Winners award in recognition of their incredible achievements and dedication to the industry for more than 25 years.
Among the excellent South Somerset dining venues, Corton Denham based The Queen's Arms won Bronze in the Pub and Casual Dining Awards, and The Clockspire Restaurant in Milborne Port won Silver in Restaurant of the Year.
South Somerset Tourism was also proud to sponsor the Accessible and Inclusive Award, won by Wraxall based Noah's Ark Zoo Farm. Congratulations to the other finalists WWT Slimbridge Wetland Centre and Farm and The Roman Baths & Pump Room in Bath.
Cllr John Clark Portfolio Holder for Economic Development, said
"We are delighted to fly the flag for South Somerset, and to win Gold is testament to the tourism team's passion and commitment to what they do. It is great to see their hard work recognised like this and we look forward to an even busier season next year. It is fantastic to see so many tourism businesses in South Somerset being acknowledged for their excellent work."
Image credit Nick Williams