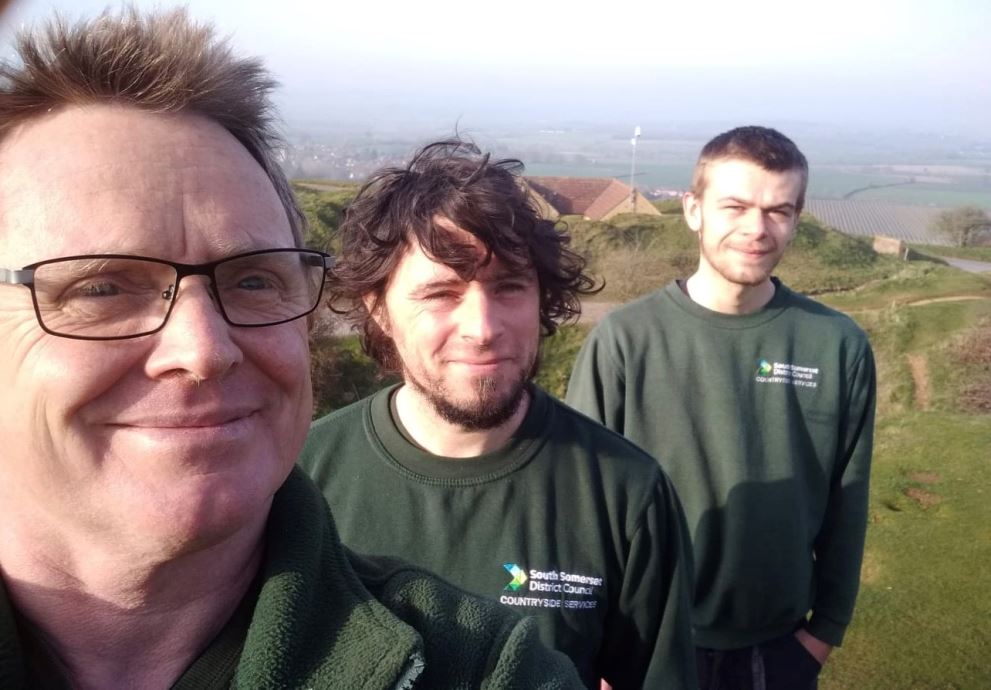 Released On 22nd Mar 2022
Meet the Ham Hill Rangers
We've had a change in staffing recently at Ham Hill so we thought it was time to reintroduce the team so you know who is who when you see them out and about on Ham Hill.
Leading the team is Countryside Ranger Paul McNeill (on the left in the photo). Many of you will already know Paul as he has worked at Ham Hill for over 15 years now and is the font of all Ham Hill knowledge! He is pretty nifty with a chainsaw too.
In the middle is our newest member of the team, Assistant Countryside Ranger Jason Fontana. Jason joins us from Crewkerne Town Council, where he used to manage their green spaces including Bincombe Beeches LNR. Jason has only been with us since the beginning of March and we are looking forward to showing him all of the wonderful wildlife on Ham Hill as we move through the spring & summer seasons.
On the right hand side is our Trainee Assistant Countryside Ranger, Jay Bargery. Jay joined the team in September last year as part of the government funded Kickstart scheme, to help young people who were not in training or employment. Jay initally joined on a 6 month contract but we have been able to secure his placement for a further 6 months until September 2022. Jay has enjoyed getting stuck in with the practical work over the autumn and winter and will now also gain valuable experience in wildlife surveying & event delivery through the spring & summer.
Come and say 'hi' next time you see us out on Ham Hill! You can also follow our work via our socials on Facebook and Instagram.