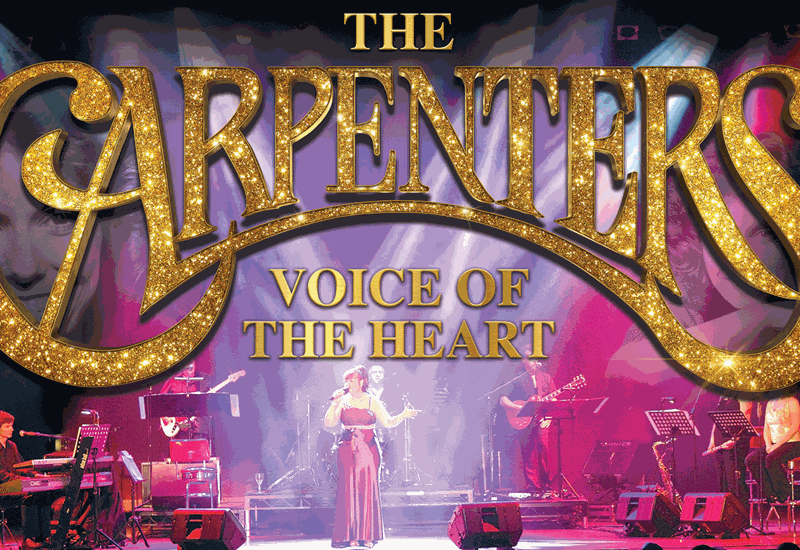 The Carpenters The Voice of the Heart
The Carpenters - Voice Of The Heart is a stunning production celebrating the music of one of the world's most beloved duos, The Carpenters. (They Long to Be) Close to You, Goodbye to Love, Yesterday Once More, We've Only Just Begun, I Won't Last a Day Without You, Only Yesterday, all the hits that every Carpenters fan adores.
Plus great medleys put together from their many album tracks. Songs that link together from The Beatles; Please Mr Postman, Ticket to Ride and Help. A superb Bacharach and David medley featuring renditions of Do You Know the Way to San Jose and Always Something There to Remind Me, to name but two of these legendary hits. A Carpenters country medley with Top of the World, Sweet, Sweet Smile and Jambalaya will be in great contrast to the sad and perhaps most popular songs on their last and most poignant album, Voice of the Heart. Plus many more timeless classics celebrating the voice of Karen Carpenter. With superb vocals from Carole Gordon and the outstanding talent of the exceptional Blue Jeans Band and singers, this superb cast boasts a wealth of talent having performed in London's West End to cruising the world on both the QE2 and the QM2. Together they effortlessly recreate the magic of The Carpenters.
Tickets available from: Octagon Theatre, Yeovil