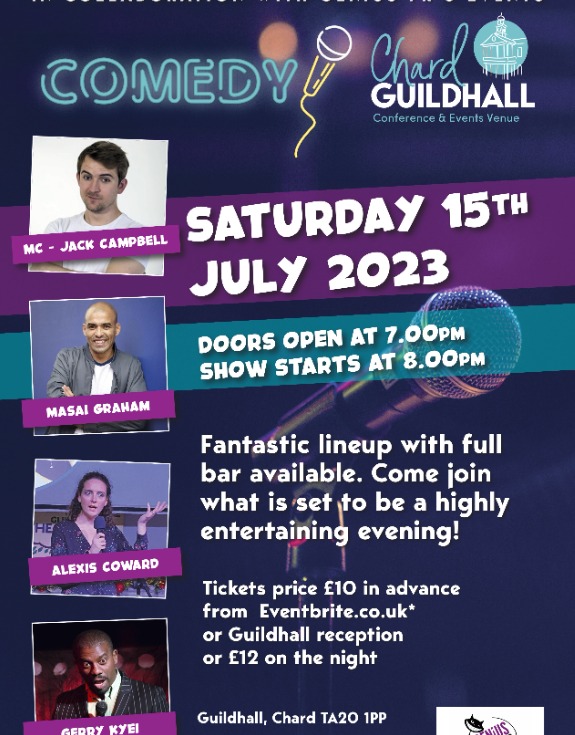 Comedy @ Chard Guildhall
Live comedy returns to the Guildhall with a fantastic line-up in store for you - to include:
Jack Campbell
Jack Campbell is a stand-up comedian. Originating from rural Cambridgeshire, Jack now lives in Leicester and gigs all over the country.
Winner of English Comedian of the Year 2014, Jack has even performed in Australia, Germany, Finland, Latvia and Estonia.
Jack has always loved stand-up comedy and began performing whilst at De Montfort University, Leicester in 2009.
Masai Graham
Masai Graham is a multi award winning one-liner comedian who hails from the West Midlands.
The former Care worker turned comic has been writing and performing comedy for over a decade, winning accolades including 'UK Pun Championship 2016, 'Joke of the Fringe' 2016 and 2022 (also bagging the unofficial lockdown Some-Bloke-Called-Dave Joke of the Fringe in 2021).
His comedy skills have seen him perform live from Singapore to Dublin. With 10 years of sell out shows at Edinburgh, Leicester and Brighton fringes.
Masai delivers genius one liners, puns and word play with his genuine charm and easy-flowing banter and with his reams of material from clean to naughty, he turns his razor-sharp joke writing skills to any subject.
Alexis Coward
"Stage presence: Cowards ability to connect with such casual grace makes you feel like you know her. Punch lines: effortlessly funny." - Hop Comedy
"Alexis' whimsical approach to the comedy in her life is both charming and hilarious. Always a pleasure to have her on the bill at Barking Toad Comedy." - Barking Toad Comedy
Gerry Kyei
Gerry Kyei - A veteran of the circuit for 20 years Essex boy Gerry has headlined all over the world and worked alongside many TV regulars, himself having appeared in ITV's Take the Mic and Channel 4's FHM Comedy heroes. He doesn't hold back as he tackles modern life and his anecdotes and observations on life are delivered in a very candid but playful way that will have you laughing at things you thought about but couldn't say. Strap yourselves in for some good old adult entertainment. Gerry K was fabulous – super entertainer and a lovely guy. We're all still talking about the evening and remembering some of his jokes – very very funny star player – hope to seem him at 'Live at the Apollo'
Advanced tickets strongly recommended!