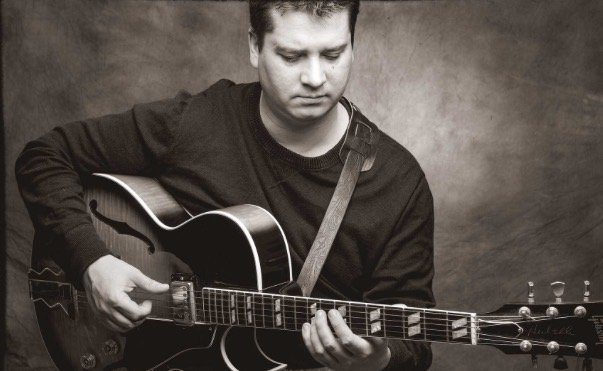 Blue Note Grooves – Neil Burns Organ Trio + Terry Quinney
Neil Burns leads a hard swinging, hard groovin' jazz trio celebrating the rich history of the Hammond Organ from Wes Montgomery to Grant Green via John Scofield and Larry Goldings, plus some original music that pays homage to the tradition with a contemporary edge.
The Neil Burns trio have been a favourite at the jazz festivals in recent years and have continued to develop and evolve creatively, working together regularly to develop a clear vision with funk and bebop at their core. The trio are joined by guest star Terry Quinney on the saxophone.
Scottish Guitarist Neil Burns has been immersed in the south west jazz scene for many years. He has performed all over Europe and is a regular collaborator of top trumpeter Steve Waterman, guitar legend Jim Mullen, and vibraphonist Roger Beaujolais to name just a few. A melodic guitarist steeped in the jazz guitar tradition!
Born and raised in Regina, Saskatchewan, Canada, since moving to the UK Terry Quinney has quickly become a fixture on the scene. He has performed all over the UK in a vast array of musical settings such as the Royal Albert Hall, The National Theatre in London, Pavilion Theatre in Glasgow, Pizza Express Jazz Club in Soho and numerous other jazz clubs, festivals and theatres. As co-leader of the 'The Sound Of Blue Note', Terry has performed with UK jazz icons such as Nigel Price, Ian Shaw, Mark Nightingale, Alan Barnes, Dave O'Higgins, and many others.
"[Neil Burns'] apparently effortless technique, authentic tone and intelligent phrasing make him an in demand musician" - St. Ives Jazz Club
The line-up:
Neil Burns - Guitar
Martin Jenkins - Hammond Organ
Ric Byer - Drums
+ Terry Quinney - Tenor Saxophone
Performance starts at 7:30pm, doors from 6:30pm with cash bar available.
Tickets:
General admission: £18
Students: £5 with valid student ID
Children 12 and under: Free, accompanied by a paying adult (max 3 children per adult)
Tickets can also be purchased by ringing 01460 54973 or visiting The Ilminster Arts Centre during opening hours.