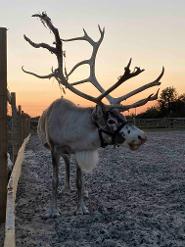 Magical Christmas Experience
2022 Magical Christmas Experience
The One Hour Magical Christmas Experience at Somerset Reindeer Ranch includes:
Story time with Santa
A gift for each child under 16 years old
A complementary luxury hot chocolate for you to make and enjoy at home.
A magical, Elf led guided tour to see real Reindeer. As a special treat you will take a journey through the magical wardrobe, where everyone's favourite Unicorn can be seen and photographed.
There will also be an opportunity to purchase special items from our shop (we accept cash or card).
Reindeer food can also be purchased for £2 per portion.
Prices - Children (18months and over) £22.50 - £29.00 and Adults (16yrs and over) £22.50 - £29.00
Magical Experience Dates for December 2022 - Saturday 3rd / Sunday 4th / Saturday 10th / Sunday 11th / Saturday 17th / Sunday 18th / Tuesday 20th / Wednesday 21st / Thursday 22nd / Friday 23rd December
Magical Christmas Evening Experience
An adult only evening event, (over 16yrs), from 7:30pm - 9:00pm which includes:
Complimentary mulled wine, mince pies, live Christmas music, and an opportunity to socialise whilst meeting the beautiful Reindeer in a magical festive environment.
The on site bar will be open to purchase a selection of festive drinks, including; Rudolf Ale, Wobbly Coffee/Hot Chocolate, wines and spirits.
Our special festive shop will also be open offering last minute and unique Christmas gifts.
Santa will not be present.
Prices - £29 per person
Dates for evening experience - Sunday 18th December / Tuesday 20th December / Wednesday 21st December / Monday 26th December / Tuesday 27th Decembe

Magical Afternoon Experience - exclusive meet the Reindeer
For three afternoons only, 4pm - 5:30pm, we will open the Ranch for a longer 90minute exclusive animal experience, on our magical festive ranch.
The children will receive a beautiful Christmas storybook as a gift. All guests will receive a complimentary hot chocolate to take away and make at home.
Other activities include; pet the bunnies, toast marshmallows inside Santa's lodge, meet the Reindeer and Snowdogs, take photos sat in Santa's sleigh, Christmas Card Craft tent.
The shop will also be open for those last-minute Christmas treats. Santa will not be present.

Prices £29 per person
Dates for Magical Afternoon Experience - Christmas Eve, Boxing day and Tuesday 27th December
Pre booked tickets only via website