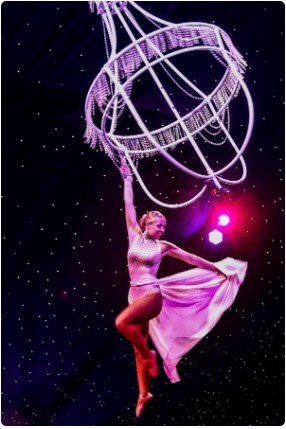 Jay Millers Circus
"Just as we all need entertainment in our lives right now " what could be more appropriate?
We are proud to bring to you, another first-class Circus production, providing family entertainment, traditional in presentation, yet modern in content.
Following reviews of: "Mind blowing", Fantastic value for money ", "Amazing" & "Great fun for all the Family", we continue our policy to promote the art of live entertainment to towns & villages throughout the UK.
With his ever cheeky & happy go lucky charm our resident Clown, PEPPI, headlines our comedy department with his array of chaos & mayhem. With a wowza of a 2023 show, these are just some of the multitude of talent that will include :
From Havana, Cuba, for the first time with Jay Millers Circus, are the NEW REVOLUTION TROUPE, who not only bring their artistic manipulation upon the narrow, legendary Russian Bar but their loving Latin charm. MATYI High on the dangerous Aerial skywalk, watch only if you dare as he works upside down over 10 metres high on the roof of our big top! Supported by the strength of her hair alone, Miss CHLOE JAYNE, manipulates as she spins aloft the Circus ring. Cheer our youngest performer JJ, as he presents his unique style of reverse juggling. Showcasing their skills in a ballet of the aerial hoop & Cyr Wheel, the talented DUO MOLNAR will have you in awe. Other talented performers awaiting your applause are the beautiful Miss PAIGE, who can be seen within our tribute to the Lion King as she entertains above the Circus Ring within her gigantic globe. Prepare to go dizzy with our Dynamic Diabolist ROSS SHIRLEY & importantly, linking this years fast paced, all action show, will be Ringmaster RAZZ. As the show concludes, we have a special number, not been seen under our Big Top in over ten years - What & who could it be ??
So join us as we bring you, possibly, the best show to date! Enjoy the smell of the Candy Floss, the fresh Popcorn & the traditional greasepaint, creating a fun family experience where the atmosphere is pure Circus!
JAY MILLERS CIRCUS IS BACK, with a fantastic family Show, suitable for all ages.
Tickets booked here
Image cc Jay Millers Circus