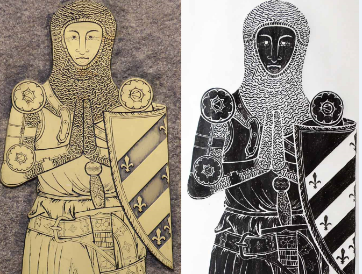 Brass Rubbing at St Andrew's Fair
Engraved brass plates set into the stone floors of churches were made as monuments to knights, lords, ladies, bishops and merchants from the 13th to the 17th centuries. They are a fascinating window into the Middle Ages, showing costumes, armour, weapons and even pets in extraordinary detail. Brass rubbing involves taping paper over the image and rubbing with black or gold wax to produce a faithful copy of the original. Many brasses are now available as facsimiles, which can be rubbed in the same way. The technique can also be used to create wax rubbings of woodcuts, Celtic patterns and entirely new designs.
Steve Jeffcoat of Low Ham used to run the Brass Rubbing Centre in Canterbury. He will be bringing a collection of 20 plates, from 6 inches to 4 feet in length, to the St Andrew's Fayre. Steve will show you all you need to know to create beautiful rubbings. Come and try your hand at brass rubbing and watch as Mediaeval figures or Celtic knotwork patterns appear as if by magic beneath your fingers. It's easily mastered by adults and children alike, so bring all the family—all that's needed is a little patience and a firm hand, and there's no mess! Rubbings and prints will also be available for sale.
Bookings Not Allowed