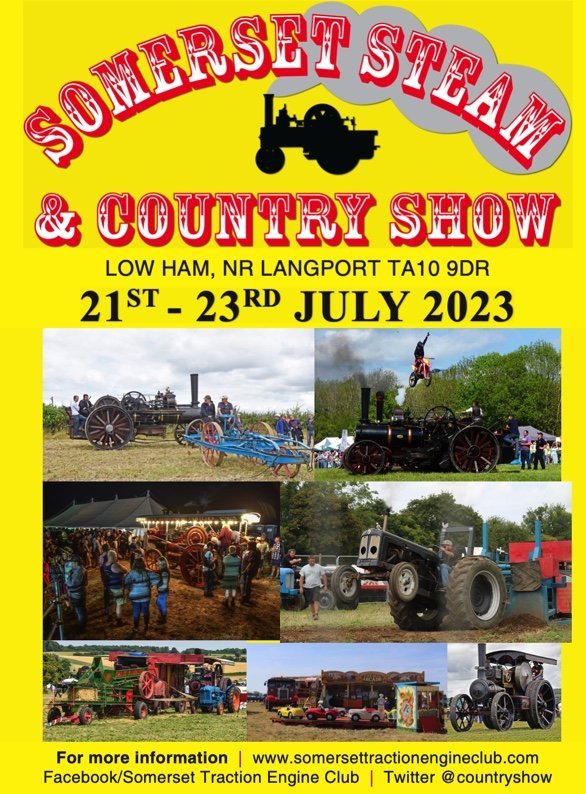 Somerset Steam and Country Show
Saturday and Sunday
The main ring programme commences at 10.00am. All types of vintage and classic vehicles on parade, starting with our fantastic display of over 200 vintage and classic tractors followed by some of the oldest and most impressive steam traction engines in preservation! Also vintage and classic cars, motorcycles, commercial and military vehicles!
New this Year – Don't miss Flyin Ryan!!
With two arena shows each day, we are proud to present Flyin Ryan with a breathtaking Motorcycle Stunt Show. When you've seen this, you've seen the best!
The Tractor Pullers are back!
Tractor Pullers will be demonstrating the power and spectacle of specially built tractors pulling a massive loaded sledge. With published display times you can be sure not to miss the show!
Step back in time to when Steam Power changed the World!
Demonstrations of the Power of Steam in the Working areas:-
The steam ploughing and cultivating area
Steam rollers and road making
Sawing and threshing loading and heavy haulage
Round timber loading and haulage
To purchase tickets , please visit this link: Tickets and membership for Somerset Traction Engine Club • STEC